Findlay Oak Grove, Niagara, New York
Part of the Niagara Gorge Corridor, Western New York Land Conservancy's showcase native ecosystem and its plant community composition will incorporate local grass and wildflower seed collection and propagation. Forest communities begin with existing mature native trees and add a density of young trees and shrubs to develop a natural forest character over time, in patches throughout the park, with sunny open grassland vistas between. Grassy pathways weave in and out and connect the neighborhood with the main bike path. Three seating areas are planned.
The Clearing, Historic Cultural Landscape, Northern Door
Consulting landscape architect for The Clearing, a masterwork of renowned landscape architect Jens Jensen. Design and implementation in this historic cultural landscape that honors and restores Jensen landscape elements, and that also considers changing site conditions, universal access, and functional needs of the School, along with Jensen's notes and ideas, in new projects. An ongoing, multi-year project, 2011 to present.
Small Urban Park
Start Small, Think Decades: An evolving, responsive urban park
Our vision incorporates the Quadruple Bottom Line (people, planet, profit, purpose):
First, a park that is an economic benefit by funding its ongoing operations and improvements largely through grants, organizational partnerships, and community sweat equity; and that contributes, as a valued public amenity, to a positive future for local enterprise development nearby. This includes seeking to connect work of ongoing park projects to local businesses and enterprises (e.g. plant nurseries, landscape firms, construction of seating, parking areas, sculptors, muralists, etc.).
Second, a park that seeks to provide tangible benefit to many constituencies – green space and recreation for nearby apartment dwellers, young families, teens, seniors, diverse cultural backgrounds, and rehab spaces for therapy patients. A park that provides delight and respite and is different than any existing park in the city.
Third, a park that incrementally improves habitat and ecological function as it focuses increasingly on natural landscapes with native plant communities, and approaches all projects with a mind to environmental sustainability, including low embodied energy in materials and management techniques. (This is a park with landscapes other than lawn).
Fourth, a park that thinks toward future decades. This means thoughtful incremental development steps in the park that continue to respond to needs of the neighborhood, and that contribute to the long-term sustainability of the park. It also means serving constituents from young to old and ongoing generations. The park might be always on its way to becoming; never finished, always progressing. This makes it resilient and adaptable.
A park design and incremental implementation plan which build-in ongoing meaningful participation for community members can amplify the positive results for both nature and for people, and that is a sweet spot we seek.
Phases in years 2020-2030 include the following incremental opportunities (Timing to be determined based on ongoing inclusive park planning processes and determined needs, and synergistic timing with funders and collaborating organizations):
(a) Wellness Entrance / gardens / rehab trails; (b) Expansion into stormwater wetland system; (c) Interventions of Beauty; (d) Interventions of Delight; (e) Wild Orchard; (f) Bird Sanctuary; (g) Mountain Bike Trail System. [All are described in plan].
somers farm and prairie
Conservation and land use planning in southeastern Wisconsin, and ongoing ecological restoration field work.
Riparian Landscape Restoration Plan, Private Client, Fox River, Green Bay
Stella Niagara Preserve, Western New York
With Darrel Morrison, developing plans for the new 30-acre Stella Niagara Preserve along the Niagara River in Western New York.
Congratulations to the Western New York Land Conservancy and Make Communities for the 2016 WNY APA Public Outreach Award for the Stella Niagara Preserve Vision Plan, which includes our work.
Buffalo News: Stella Niagara Preserve plan calls for network of nature paths, improved habitats
Eco-Justice Center, Racine, Wisconsin
Developed site plan alternatives (three) for the Eco-Justice Center, considering expanded educational programming, facilities, and sustainable living principles. Planned and conducted brainstorming charrette with board members and staff.
Marsin Nature Retreat, Keweenaw Land Trust
Site planning and land management planning, including framework notes, with over-arching guidance to keep in mind in planning site work, whether for programmatic needs or focused on ecology and restoration; annotated restoration zones; develop project Patterns. Conducted charrette with twenty members of the Lake Superior Stewardship Initiative.
Grand View Preserve, Northern Door County
At a public landscape, plans for step-wise restoration interventions that can accommodate limited resources, while gracefully improving the habitat and the human experience. This is a long-term, incremental, ongoing project.
Fiddlehead Gardens, Kenosha County, Wisconsin
2011-2018 ecological restoration planning and incremental implementation. This is an ongoing, multi-year project and a long-term plan. And a joy.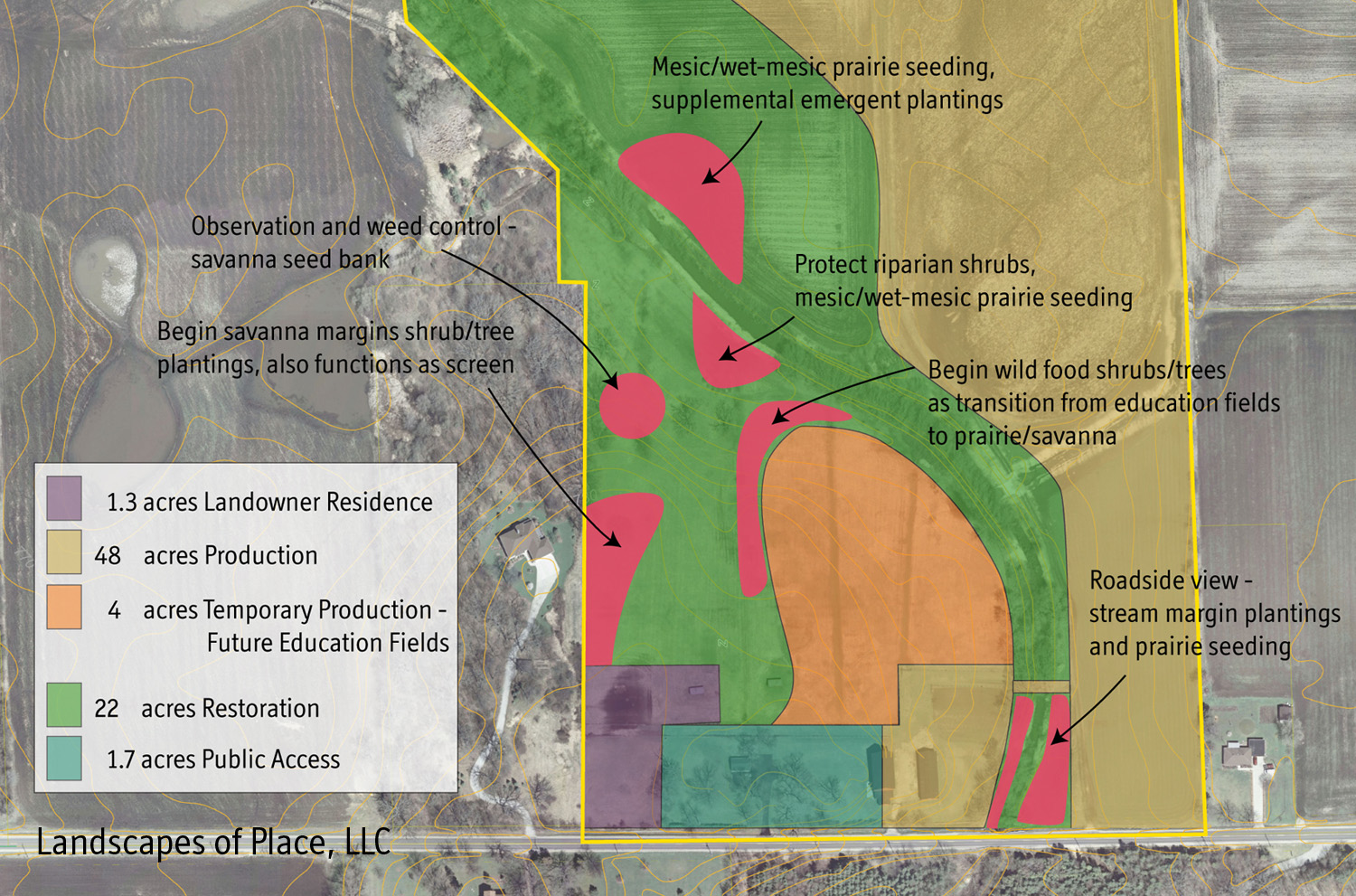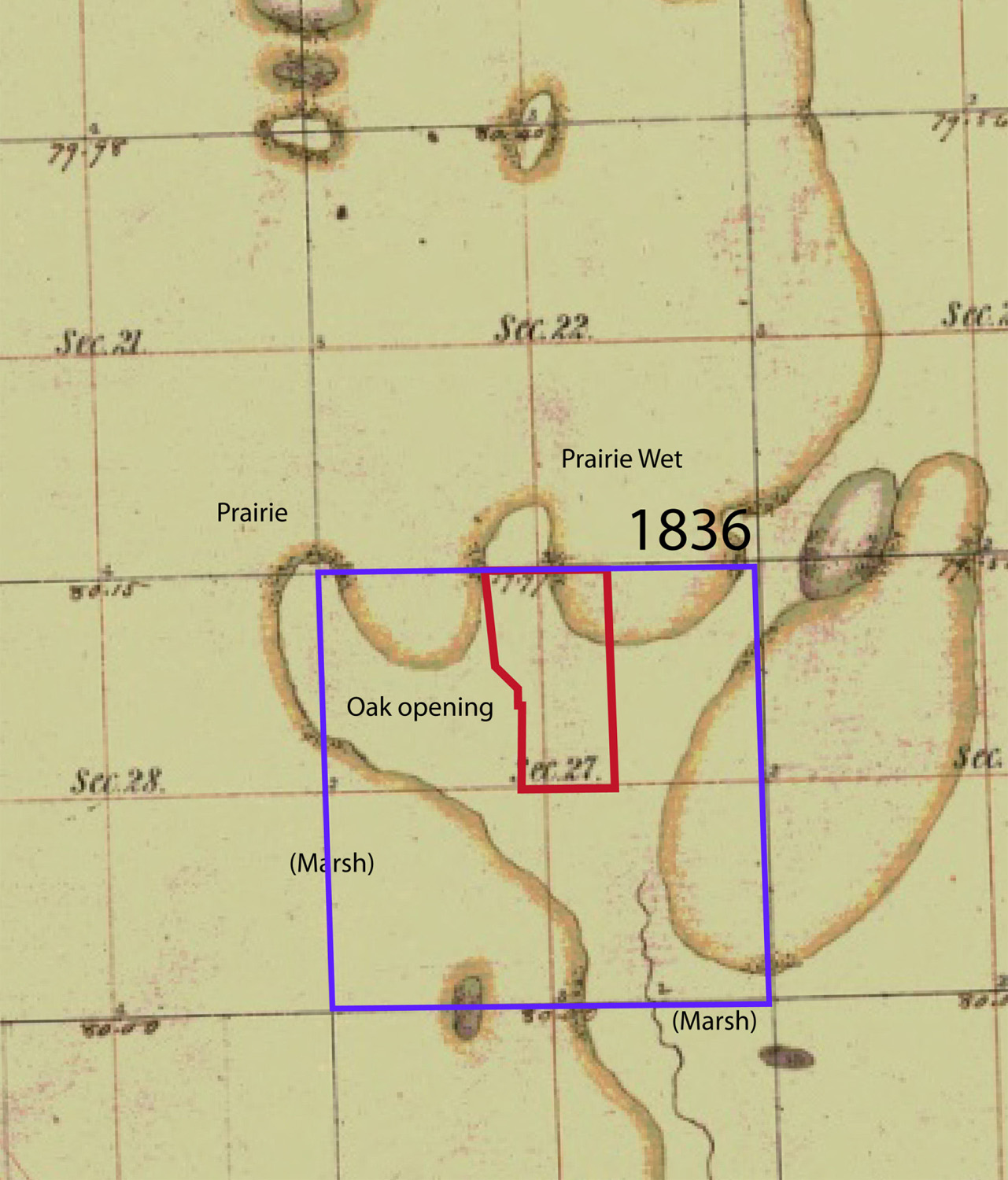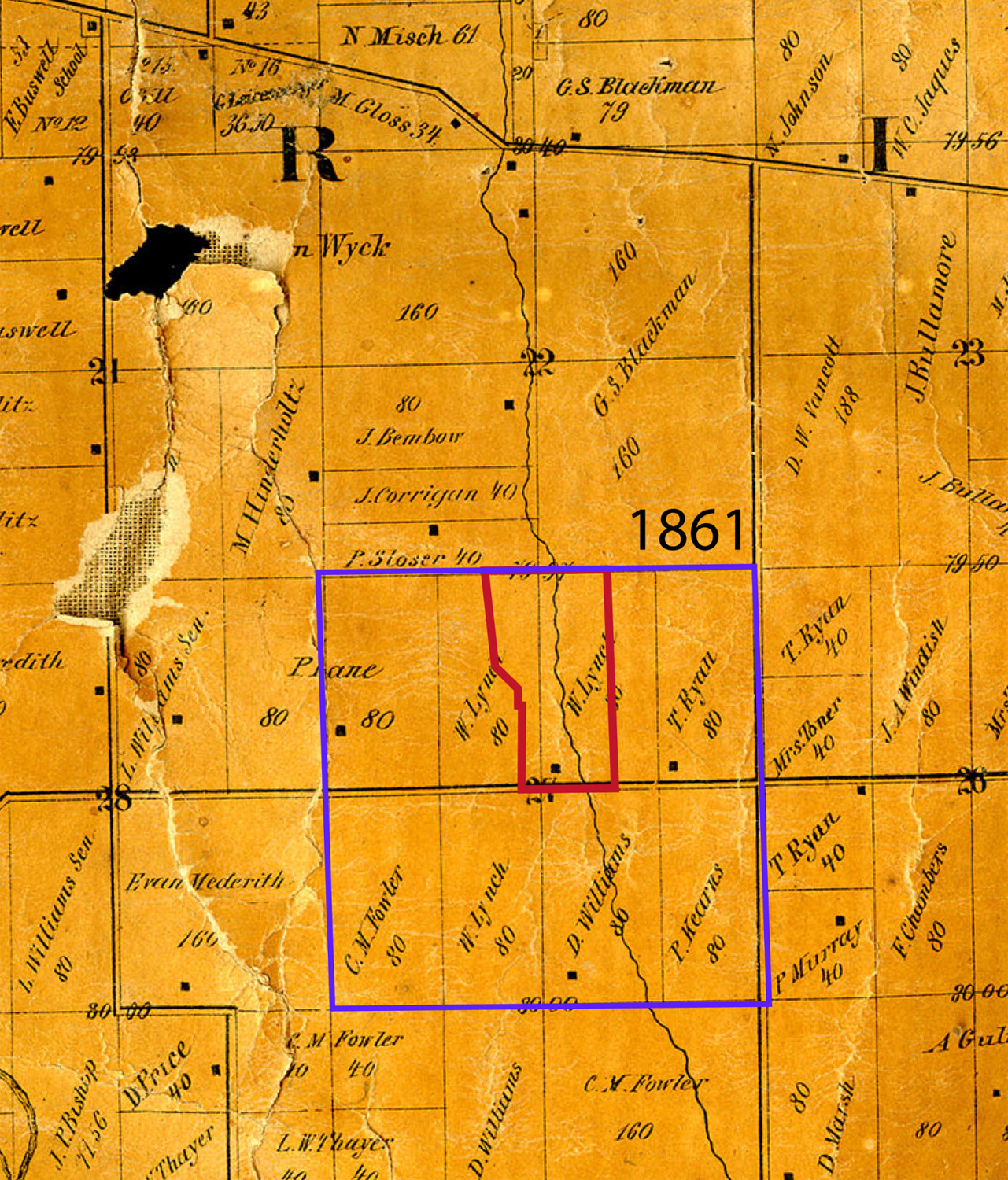 2018 Photo gallery. Very satisfying results. For prior years see gallery below.
Rotary Centennial Arboretum
Concept plan for the Urban Ecology Center, Milwaukee, for 40-acre native plant community Arboretum. Developed proposed grading plans, plant community zones, and trail configuration.
Menomonee Valley Landscape Restoration Plan
Landscapes of Place receives 2011 American Society of Landscape Architects Honor Award for this project.
Conference poster that summarizes our ideas of Amplified Participatory Restoration. Presented at 2012 Wisconsin Wetlands conference and Society for Ecological Restoration - Midwest Great Lakes conference.
Air-line Yards in the Menomonee Valley provides tremendous opportunity for an idea that has emerged with much time, conversations, inspiring partners and eager neighborhoods: to make a significant wild place in this valley, healing land and healing community. The overarching goal: to transform the irreversibly altered land and hydrologic conditions to a mosaic of biodiverse landscapes, including forest, prairie, and ephemeral wetland, native to Milwaukee and ecologically appropriate for new conditions, with systemic and meaningful engagement of the community. Guided throughout by the Society for Ecological Restoration's planning framework, the project refined goals as follows: (1) Ecological Function, (2) Learning, (3) Intrinsic Value of Nature, (4) Wildness, and (5) Delight.

The Urban Ecology Center, a nationally-recognized environmental education and citizen science facility in Milwaukee, agreed to establish their third facility on the site. Their involvement is key to this plan, in the evolution of the project goals to fully support their work with neighborhood schools, but also the concept of "education that is participatory in large-scale environmental restoration".

The plan enumerates trajectories to establish prairie, oak savanna, and eventual forest as long-term goals. It describes innovative methods to achieve un-compacted soil structure and micro-topographic variability. The plan gives thorough descriptions of nine community types with 478 native species, which are viable ecologically, available, and manageable (for example, an initial seeding of 73 species in mesic prairie, with an eventual goal of 110). Within habitat types, character and species of visual essence are described, and the role of the landscape architect on-site in developing species patterns. Novel native plant assemblages are used in the flashy-river-influenced and stormwater-influenced areas to respond to those conditions effectively. Provision for layered, textured, coherent species patterns is made to enrich the interaction of people and landscape. The plan incorporates flexibility, phasing, and a blending of contracted and community labor.

In the domain of urban ecology, this project impacts both 'urban' and 'ecology'. It embeds a wild and healthy place along a still-resilient river in the city, accessible only by walking or biking, big enough to surround you with nature, and without designed structure that can draw attention from the real art... that of life. Ecological restoration values the next-door as well as the far-away. Design plays a strong role in restoration within the fabric of cities, in our next-door places, working out how to strengthen the relationships of people with nature to the sustained benefit of both.
Thanks Giving, Milwaukee Journal Art City post, November 2009